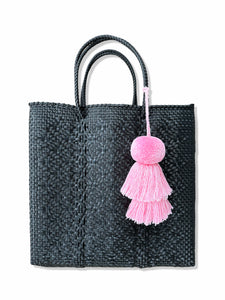 Handwoven medium bag with large pom pom tassel.
This bag has double interwoven straps to support weight, has structure so it won't tip over and it is woven by hand with extremely resistant plastic threads. Designed for extreme wear and tear. This tote won't fade and it is washable. Perfect for daily use, picn nics or trips to the beach.
DETAILS:
Body measurements: 13 x 13 x 5"
Total length 18.5"
Depending on your location, this bag might ship collapsed.
 Local pick up in East Dallas available. Use code "Dallas Local" and please e-mail micielodallas@gmail.com for arrangements.